At the Performance Place Sports Care we are a Huntington Beach Sports Chiropractic facility specializing in giving Endurance Athletes and Golfers what they need.  This mean you will get more of what you need as an athlete!
MSK Ultrasound Diagnosis
We offer state vof the art imaging for ACCURATE diagnosis of Sports Injuries with MSK Ultrasound.  Here's an example of a case from our office with a complete rotator cuff tear which was misdiagnosed for months.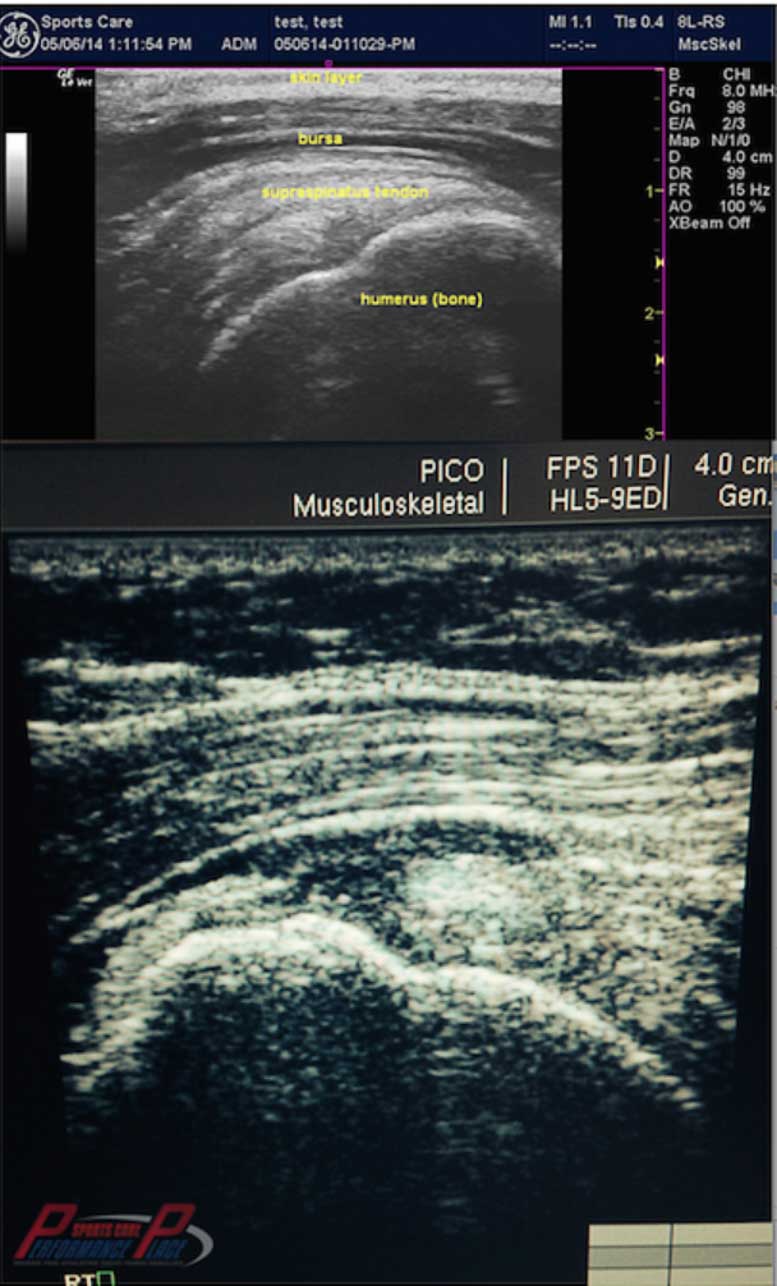 What makes P2 Sports Care in Huntington Beach different?
•    Huntington Beach Chiropractor facility specializing in Sports Care
•    Quick fix for muscle injuries/ pain/ tightness/ spasm/ and tears
•    We are honest
•    ART® (Active Release Techniques®), soft tissue work
•    Strengthening programs
•    Taping
What is Performance Care?
Athletes from all sports have a heightened sense of their body and how it is working at any given time.  Many times when you're training you might feel tightness or the feeling of  "Just not right."  It may not be an "injury" but it can hinder your physical abilities.
Not sure what it is?  We can help! By watching you move in even simple motions, we can find what type of care will help you accomplish what all athletes want: •    Healthcare as a professional would receive •    More confidence •    Less injuries
How do we use Chiropractic Care & Active Release Techniques together?
We believe in motion! Motion is needed in most all joints in the body. We know joint motion can only be preserved and/ or restored by addressing ALL aspects of the joint. •    Bones & ligaments •    Muscles, tendons & fascia •    Joint Strength By using Chiropractic Care and Active Release Techniques® we are able to reach our clients' goals.
What to expect during treatment at our Huntington Beach Sports Chiropractic Clinic
When receiving care at our facility, patients should expect a hands-on experience.  Our Active Release Huntington Beach Chiropractor doctors are specially trained to feel muscle tension and scar tissue.  Scar tissue is the main cause of pain in majority of the injuries we see. Each session of Active Release consists of a mini re-evaluation of the symptoms as well a treatment.
As stated before, an Active Release Huntington Beach Chiropractor can feel abnormal texture within the soft tissues and can effectively treat it with a specific Active Release therapy protocol.  These protocols are unique only to Active Release therapy!
It can take between 15- 30 minutes (give or take depending on the condition) and it is usually followed with another therapy modality or movement exercises targeted at keeping results longer. Many different types of
injuries can be completely resolved after about 8-10 treatments, as opposed to the 25 or 30 treatments required at other traditional treatment offices
. Although many patients may feel great at this point in their treatment, we strongly encourage them to continue with their rehabilitation and strengthening programs designed here at Performance Place® Sports Care by a Huntington Beach Chiropractor.  Exercise is what will keep the long-term results from our treatment.  We feel strength training and taping is a great compliment to Active Release Techniques®.  Our Huntington Beach Chiropractor designs our programs to help you correct the problem and minimize re-injury.
Simply put, Active Release Therapy prepares the muscles for safe and effective strengthening. 
Think about it, what happens if you work out when you're in pain… the muscles start to spasm and the problem only gets worse.
How is this different than traditional Huntington Beach Sports Chiropractic Care?
We can't speak for every Huntington Beach Chiropractor, but many base the use of chiropractic adjustments on spinal alignment and restoring function to the nervous system.  Other Chiropractors focus the efforts of their treatment within the region of the neck or sacrum exclusively.  We believe in a different approach... We are not saying chiropractic adjustments don't help, we just focus our efforts on addressing motion in the soft tissues (muscles, ligaments, tendons, fascia, peripheral nerve, etc) in addition to restoring motion in the joints with chiropractic adjustments or mobilizations.  Its just a different approach. There are many different types of beliefs of how to restore function in the body, as an Active Release Chiropractor we believe our way is the best for correction and prevention of overuse sports injuries. If you have not found success in a relatively short amount of time from your current Chiropractor or Physical Therapist, try something new!  This applies to our facility as well.  If something is not working, do yourself a favor and try something new!
Soleus Strain Video
Adductor Longus Strain Video
 Disclaimer: Active Release Techniques® can be used by a Chiropractor, Physical Therapist, Massage Therapist, Sports Medicine Doctor but only if they have the proper certifications.  Most chiropractors and physical therapists have their own styles of muscle work but ART® is patented technique.  No chiropractor, physical therapist, massage therapist or even medical doctor may claim to provide Active Release® if they do not hold a current certification.  Please check your providers certifications.  If your Chiropractor, Physical Therapist, Massage Therapist, or Sports Medicine Doctors claims to provide ART® you need to contact the Active Release® website to verify.
What is Chiropractic Care?
According to The Association of Chiropractic Colleges, "Chiropractic is a health care discipline which emphasizes the inherent recuperative power of the body to heal itself without the use of drugs or surgery. The practice of chiropractic focuses on the relationship between structure (primarily the spine) and function (as coordinated by the nervous system) and how that relationship affects the preservation and restoration of health."
But as you will find out in real life chiropractic care is different for different chiropractors. Chiropractic care to some is strictly adjusting the spine and to others it is using a combination of physio therapies with chiropractic adjustments.
What is Chiropractic Care to us? We prefer to apply adjustments only when necessary and use a combination of specific muscle work (Active Release therapy), exercises and taping. We cater our treatment to what is BEST for YOUR specific condition.
P2 Sports Care has an 80 - 90 % success rate with the following conditions: •
ACL Knee Injuries
•
Arthritis
•
Achilles Tendonitis
•
Achilles Tendonosis
•
Car Accident Chiropractor
•
Adductor Longus Strain
• Ankle injuries •
Back Pain
• Bicipital tendonitis • Bunions • Bursitis •
Bulging Disc
•
Carpal Tunnel Syndrome
• Cervicobrachial Syndrome •
Chondromalacia Patella Treatment
•
Compartment Syndrome
•
Common Sports Injuries
•
Cumulative Trauma injuries
•
De Quervains's Tenosynovitis
• Dupuytren's Contracture •
Degenerative Joint Disease
•
Difference in Leg Length Treatments
• Disc Herniation • Foot pain/injury •
Foot Numbness Treatment
• Finger Injuries •
Frozen shoulder
•
Front of thigh numbness while running
•
Gluteus Medius Pain with Running
• Golfers elbow (Tendonitis) •
Golf and Active Release Technique
• Gait imbalances • Hammer toes • Hand injuries •
Headaches
•
Heel Pain Therapy
• Heel Spurs •
Hip Flexor Syndrome
•
Hip Pain Running
•
Iliotibial Band
•
Impingement syndromes
•
Infraspinatus Strain
• Joint dysfunctions • Knee Meniscus injuries • Knee pain • Lateral Epicondylitis •
Low Back Pain
• Medial Epicondylitis •
Metatarsalgia
•
MSK Ultrasound of IT Band
• Muscle weakness • Muscle pulls or strains •
Diagnostic Musculoskeletal Ultrasound
•
Musculoskeletal Ultrasound Imaging
• Myofascitis • Neck pain • Nerve Entrapment •
Numbness in Fingers and Hand
•
Pes Anserine Bursitis Therapy
•
Piriformis Syndrome
•
Patellar Tendonitis
•
Pectineus Strain treatment
•
Pinched Nerve
•
Peroneal Tendonitis
•
Plica Syndrome
•
Postural Syndrome
•
Plantar Fasciitis
•
Pulled Hamstring
• Post surgical treatment • Repetitive strain injuries • Restless Leg Syndrome • Rib pain • Rotator Cuff Syndrome • Scar tissue formation •
Sciatica
•
Scoliosis Treatment
•
Shin splints
• Shoulder pain •
SICK Scapula Therapy/a> •
Shoulder Surgery
•
Soleus Strain Treatment
•
Swimmers shoulder
•
Tarsal Tunnel Syndrome
• Tendonitis •
Tennis Elbow
•
Tibialis Posterior Tendon Dysfunction
•
Therapy for Huntington Beach for Baseball
• Thoracic Outlet Syndrome • Throwing injuries • TMJ • Torticollis •
Trochanteric Bursitis Therapy
•
Ulnar Nerve Treatment
• Weight lifting injuries •
Whiplash
• Wrist injuries
Review us