I Know This Works Because I've Been in Your Shoes
Ever since my second bout of back pain in my 30s, I've been determined to make recovery from lower back pain possible for everyone. I'd love to say I "fix" people. But in reality, all I do is guide them to the solution their body is looking for. Because all that most people need to get where they want to be—out of pain and active again—is the right guide.
As your trusted guide, it's my job to only recommend the best possible resources for you. This book is one of them. Taking the time to read it now could spare you months, or even years, of suffering that keeps you from doing what you love.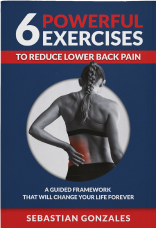 Once you create a recovery roadmap with your new book, take the next step on my clinic's website. We'll show you everything you need to know about "a LOAD" (and help you bust through every recovery plateau).
Remember, in most situations, it's possible to get out of pain in two weeks or less. You just need a guide who can suggest the right thing at the right time with your specific condition.
Get started today with this ebook.
Until next time,
Dr. Sebastian Gonzales, DC, CCSP®, CSCS, RMSK