9 "Must Know" Facts about Shoulder Pain while Pitching
Avoid Rotator Cuff Surgery
9 facts about Shoulder Rotator Cuff tears that all pitchers shoulder know, and so much more
When pitchers become more advanced in their play and position, rotator cuff tears of the shoulder can often become surgical cases.
This article will educate pitchers and players on how they can avoid surgery and the potential loss of their baseball and pitching careers.
Why do you need to know 30+ pages about rotator cuff tears?
As a pitcher, hearing that you could potentially have a rotator cuff tear is probably one of the worst things you could hear. Not only can rotator cuff tears be very painful, but they can also often be detrimental to careers.
So, can they be prevented?
Yes! Scientific research has indicated that most rotators cuff tears are atraumatic, or in other words, they are "build-up" conditions.
The goal of this article is to assist you in developing an awareness of how these tears tend to develop in pitchers and to assist you in learning what steps need to be taken in order to prevent these tears.
These days, a more common and more "exotic" injury to have is an ulnar collateral ligament (UCL) tear. This type of tear often leads to Tommy John surgery, which replaces the elbow ligament after a tear.
While the "Tommy John" procedure is becoming increasingly more common, the procedure actually yields a much higher percentage of players returning to play when compared to procedures meant to correct a rotator cuff tear or shoulder labral tear.
As of 2014, rotator cuff tears in the MLB seem to be on the decline, whereas UCL injuries seem to be on the rise.
In 1997, both types of injuries occurred at 25 incidents per season.
In 2003, rotator cuff tears continued to occur in the mid 20's per season, while UCL occurrences jumped to nearly 60 players per season.
As of 2014, rotator cuff tears have now dropped to 14 incidents per season and UCL injuries remain high, in the 60's.(1)
Is this showing a tread on rotator cuff injuries fading off into the sunset?
No, not at all.
Both shoulder and elbow injuries come from a break down of the lower body, trunk and shoulder blade region from a strength, stabilization or pitching form fault.
Rotator cuff tears are extremely common and can occur in any of the 4 cuff muscles:
• Supraspinatus
• Infraspinatus
• Teres minor
• Subscapularis
Rotator cuff tears can also be asymptomatic.
In fact, it has been estimated that 66% of cuff tears do not present with pain.
Of the 33% of cases that actually do present with pain, typically only 20% of those cases actually seek medical attention for the condition. (16) Tears will typically respond to conservative forms of treatment, but the pain can often return after the rehabilitation process is "complete."
The pain typically returns when the tear is subjected to expansion.
What is expansion?
Expansion is where a previously sustained tear becomes larger, or when "tendonitis" turns in to a tear.
You read that right: tears can get larger over time.
One major thing you can take away from the research is that there is no such thing as "completion" of rehabilitation. Rehab is an on-going process. This does not mean, however, that the pitcher needs to be present in a healthcare facility multiple times a week.
Let's get another thing straight…
Just because a majority of rotator cuff tears do not cause pain, this does not mean that they are not eventually going to.
Once a pitcher has sustained a rotator cuff tear, he or she will always have a rotator cuff tear.
This does not mean that all activity needs to immediately stop and he or she should get themselves in to an operating room as soon as possible.
Rehabilitation is a weekly process and, in many cases, will end up being a part of your daily warm-up or cool down. This should always be the mental approach to rehab on any injury.
We will go in to further details on some of the things that can be done for rehab later in this article.

Why is it so much more complicated to surgically repair a rotator cuff?
To start, the structure that is being repaired is much more rigid.
Ligaments are very firm, while muscles and tendons are very pliable. This pliability is required for after a repair.
It is the dynamic nature of the muscles and tendons of the rotator cuff that could lead to a re-tear.
Second is the nature of the joint that being repaired.
When you compare the elbow to the shoulder, the elbow is very simple and stable. The shoulder joint is a ball and socket joint. By nature, ball and socket joints yield large amounts of motion and instability. Baseball pitchers just so happen to be the poster boys for shoulder instability and laxity.
When a joint becomes laxer, the surrounding muscles and tendons take on the extra task of stabilizing that joint through its large range of motion.
Third is the typical loss in range of motion, due to stiffness, after the surgical repair.
A loss (or gain for that matter) of range of motion, in a pitcher, for any reason, can be a detrimental event. The amount of range of motion that you lose, post-op, is reason enough to seek and attempt non-surgical rehabilitation, if at all possible.
Below, I have compiled a short list of pitchers who have sustained rotator cuff tears in just the past few years. Keep in mind that this list includes pitchers with reported "tendonitis" and "inflammation," since both of these conditions also fall under the section of diagnostic imaging called "interstitial tears." The term "interstitial" refers to a small tear within the fibers of the structure and it does not extend through to the ends of said structure.
• Pedro Martinez
• Joey Eischen
• Kris Benson
• Cliff Politte
• Mark Mulder
• Matt Clement
• Bartolo Colon
• Ryan Wagner
• Freddy Garcia
• Tom Gordon
• Johan Santana
• Brandon Webb
• Kerry Wood
• Don Drysdale
• Ben McDonald
• John Rocker
• Wayne Simpson
• Mike Scott
• Matt Keough
• Mark Fidrych
• Steve Busby
• Don Gullett
So, what can cause a rotator cuff tear in pitchers?
• Poor pitching mechanics
• Weakness in the rotator cuff/shoulder blade
• Haphazard throwing calendar
• Weakness in the lower body and core
If you would like a recap of anatomy and physiology, click through to bottom of page:
Fun Facts on Shoulder Pain while Pitching

Fact #1:
13%: The percentage of the force generated by the shoulder when pitching. (9,10,11,26)
Notice that this is not a large percentage at all. This means that much your velocity in pitching will does not come from the arm/shoulder.
So then where does it come from? See the fact below to find out.

Fact #2:
51-55%: The percentage of force generated by the trunk, pelvis, and legs when pitching. (9,10,11,26)
This percentage is huge!
The power that your lower body produces is where most of your pitching velocity comes from. Great pitchers don't just glide off the mound, they drive off the mound.
By using your lower body more during pitches, you could just end up saving your shoulder and elbow from a lot of pain and frustration later on.

Fact #3:
2 million: The number of rotator cuff cases reported every year!
This number is changing every year, I'm sure, but the take away point here is not so much the exact number, as it is the raw volume!
Rotator cuff tears are, unfortunately, very common. The good news, though, is that they are very preventable with the right rehab/exercise program in place.
The right kind of program should only take you an extra 15-20 minutes a day and it only needs to be done a few days of the week, assuming that you are already doing regular workouts for pitching.
If you would like a glimpse at a program we do have a free intro course available.
Fact #4:
33%: The percentage of tears requiring surgery.(16)
This number represents only advanced tears. Most of the time, pitchers will present with a lot of warning signs years before actually suffering a tear of this magnitude.

Fact #5:
$21,800: The average cost of a rotator cuff surgery.
Obviously, this number can vary greatly based upon hospital costs, surgeon fees, anesthesiologist fees and much more. It can also range based upon the location where the procedure takes place and the skill levels of the doctors involved.(12)

Fact #6:
3: The average number of seasons it takes for a pitcher to degrade after a surgery.
The most common predictor of future injury is past injury. Once a tear has occurred, rehab needs to be done all year-round. There is no off-season for rehab on a rotator cuff tear. "Fear avoidance" is also a huge hurdle to get through while rehabbing and returning to play.
Fear avoidance is when athletes allow themselves to perform below their potential for fear of reinjuring themselves. They avoid performing up to their potential, even when their maximum potential is still safe. In pitchers, they might fear that throwing harder will cause them to hurt their shoulder again. If not addressed, the decrease in performance will definitely show, and may also become the new norm for that player.
Fact #7:
8%: The percentage of pitchers with full thickness tears who will ever pitch again. (25,30)
Wow, 8% ever throw again… this stat scared me when I saw it.
In fact, this was one of my major reasons for creating an article of this length and detail. You need to know!

Fact #8:
1: The number of seasons lost, minimum, if surgery is performed.
The time it takes to recover from a rotator cuff surgery can vary, but typically speaking, it can take months.
If you are in-season when the tear happens, that is the end of your season. The healing time for the rotator cuff, by itself, will take months. When you add in the time it will take to get back in to pitching shape, you are now on an entirely different timeline.
Hopefully, during your healing time, you will be able to work with your strength and conditioning coach on shoulder strength. Once it is fully healed, the legs, hips, and back are now waiting to be conditioned.

Fact #9:
12: The number of weeks of physiotherapy found to rival subacromial decompression surgery in success rate. 13
That's right! In some cases, hard work was just as effective as surgery! Both treatments showed that a majority of the improvement made in the athlete, was made within the first three months.
So how do you know if you should pursue surgery or physiotherapy?
A majority of doctors will agree that if you have not seen any improvement in the shoulder within six months of performing less invasive procedures (physiotherapy), then decompression surgery will likely be a better option.
Rehab methods can include: (8)
Passive and active range of motion exercises
Selective capsular stretching
Core strengthening and stabilization
Neuromuscular exercise
Strengthening of the rotator cuff, deltoid, and periscapular musculature
Anatomy of the Shoulder

To really understand the different types of rotator cuff tears we have to start with and understanding of the shoulder, shoulder blade, and trunk. The shoulder, or glenohumeral joint, is considered a ball and socket joint.
The ball of the joint is the humeral head, or the top portion of the arm bone, and the socket is made by the shoulder blade, or the scapula.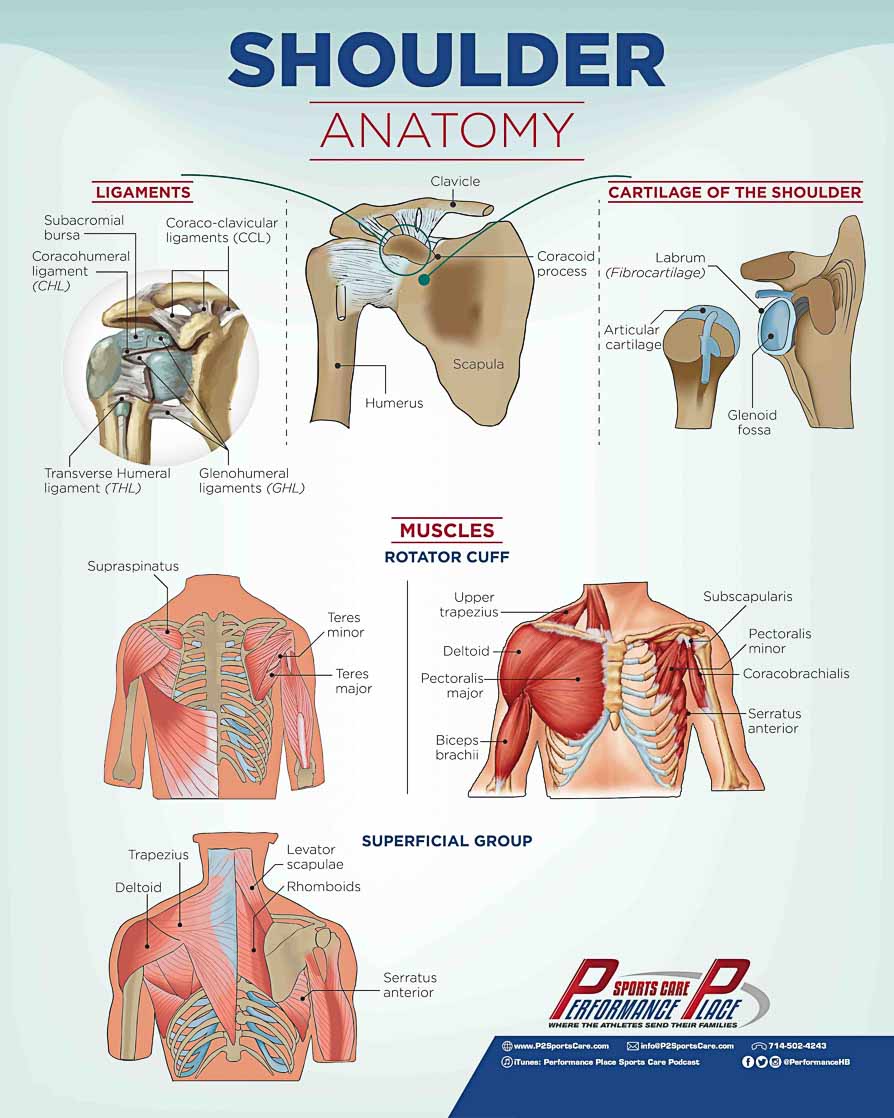 Share this Image On Your Site